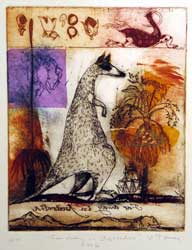 In this series of prints one will find a combination of mythical motifs: castles, dragons, Humanesque characters- all forms of habitation, habitat and inhabitant that surface almost subconsciously when we reflect on our childhood literature and imagination.

The images transcend cultural barriers and work with symbols embedded in ancient and modern day cultures. The multi-layered, multi-staged process of printmaking lends itself to capturing the multi-faceted nature of myth, metaphor and memory. I have experimented with different colour techniques using layers of Japanese paper to add more depth and texture. This technique suits the themes I am dealing with- transitions, explorations of the unknown, getting lost in a labyrinth of confusion and following the dream in the beauty of the always-changing world.

VeselinaTomova received her Masters of Fine Art from the Academy of Graphic Art and Book Design in Leipzig, Germany. She is active in printmaking, illustration and graphic design. In addition to her substantial portfolio of fine art works, she has illustrated numerous books in Germany, Bulgaria and Canada. Her work has been recognized internationally and she is the recipient of numerous grants and awards. Veselina is represented by the Red Ochre Gallery in St. John's, Newfoundland.
Recent Solo Exhibitions:
Crossings Feb 2013
Harbours and Outports Nov 2010